Helsinki, September 28, 2023. Presentation of the Volume for the Churches of Hagia Sophia. Meeting with the Vice-President of the Finnish Parliament
A delegation of the Interparliamentary Assembly on Orthodoxy (IAO) visited Helsinki from September 23rd to 27th for the presentation of the volume titled "Hagia Sophia: The Churches of the Wisdom of God around the World". The delegation led by Dr. Maximos Charakopoulos, the IAO Secretary General, included the IAO Deputy Secretary General, Mr. Ioannis Sarakiotis, the IAO Treasurer, Mr. Athanasios Davakis, Mr. Irakli Kadagashvili from Georgia, Mr. Mile Talevski and Ms. Ane Lashkoska from North Macedonia, Mr. Dragan Bojovic from Montenegro, as well as the IAO Advisor, Dr. Kostas Mygdalis.
In Helsinki, the presentation of the volume on the Hagia Sophia Churches took place on September 25th at the "Sofia" Cultural Center. The event featured speakers including Mr. Paavo Hohti, a professor of Byzantine Studies; Dr. Renja Suominen-Kokkonen, a specialist in church architecture and lecturer at the University of Helsinki; and Dr. Maximos Charakopoulos, who made a special reference to Metropolitan Ambrosios, the Director of the "Sofia" Cultural Center, who has been one of the "founding friends" of the IAO. He was present at our 1st General Assembly in Ormylia, Chalkidiki, in 1993 and has actively contributed to its work for thirty consecutive years.
Furthermore, the members of the IAO delegation had the opportunity to receive an invitation to a working breakfast hosted by the Vice-President of the Parliament of Finland, Ms. Tarja Filatov.. During this event, the head of the international organization addressed several critical points, stating: "Our world is undergoing rapid changes, and it is imperative that we confront these new challenges collectively. The successive crises, including those related to health, immigration, energy, and climate, underscore the necessity for closer cooperation. These challenges highlight the importance of addressing issues with substantial and practical solidarity, not only as the EU but also as a global community. Environmental awareness is indeed a Christian message, and Ecumenical Patriarch Bartholomew has been a pioneer in this regard. He is often referred to as the 'green Patriarch' due to his longstanding insistence on the need for environmental protection initiatives." In response, the Vice-President of the Finnish Parliament concurred, emphasizing the importance of better preparedness for the future, given the unfortunate reality of climate change.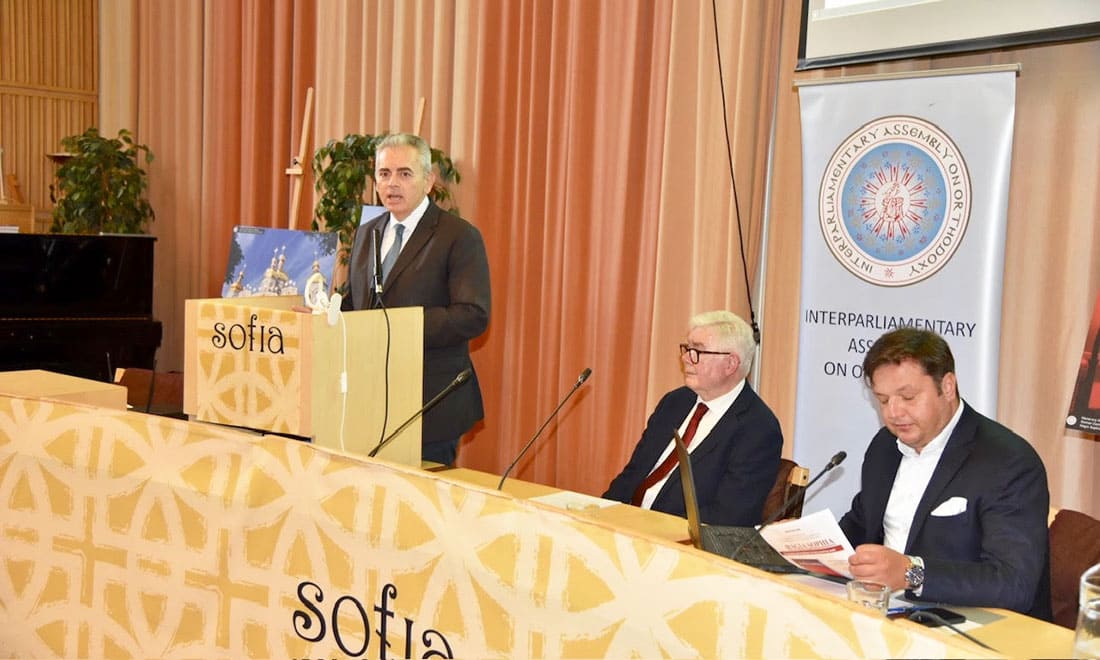 Additionally, within the parliament, following the working breakfast, the delegation met with Ms. Karoliina Partanen, the head of the Finnish Parliamentary Delegation in the Nordic Council, which includes MPs from all the Nordic countries. The IAO Secretary General, after presenting the organization's aspirations and initiatives, emphasized the growing importance of inter-parliamentary cooperation. Mrs. Partanen, in response, discussed the objectives of the Nordic Council and expressed gratitude for the exchange of views.
During their visit in Helsinki, the IAO delegation also visited the impressive Cathedral of the Dormition of the Mother of God.