CAIRO, 28 FEBRUARY – 2 MARCH 2014.
The I.A.O. delegation consisted by Mr. Anastasios Nerantzis, Member oΕthe Hellenic Parliament, I.A.O. Secretary General, Mr. Sergei Popov, Member of the Russian State Duma, President of the I.A.O. General Assembly, Mr. Joseph Iskander, Member of the Parliament of Sudan, Member of the I.A.O. International Secretariat, Mr. Fuad Kokaly, Member of the Palestinian Legislative Council, Member of the I.A.O. Committee on Human Rights, and the I.A.O. advisors, Mr. Kostas Mygdalis and Mr. Valery Alexeev, realized a visit to Cairo (28 February – 2 March 2014).
The delegation had an official meeting with H.H. Tawadros II, Pope and Patriarch of the Coptic Orthodox Church at the seat of the Patriarchate. During the meeting issues concerning Christians in Egypt were discussed in detail and H.H. was briefed on the I.A.O. activities, especially the activities concerning the protection of Christians of the Middle East.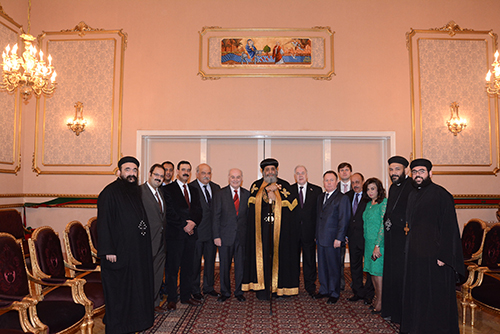 In addition, the I.A.O. delegation visited the Patriarchal Vicar of the Greek Orthodox Patriarch of Alexandria and all Africa in Cairo, His Eminence Nikodemos, Metropolitan of Memphis and had the opportunity to discuss issues of common interest.
On Saturday, 1 March the I.A.O. delegation had a meeting with the Copt Members of the previous parliamentary term, Church representatives and representatives of the Christian communities of Egypt.
During the meeting His Eminence Bishop Paula, member of the drafting committee of the new constitution of Egypt, briefed all participants about the innovative elements of the new Constitution of Egypt, recently voted by a large majority
Τhe I.A.O. encouraged the Members of the Parliament to run again in the upcoming polls, in order to ensure there is a strong cross-party presence for Egypt's politics in the new Parliament.